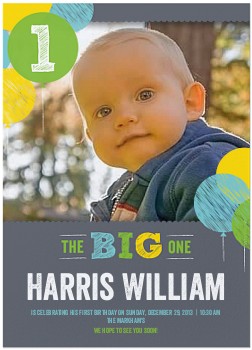 We celebrated Harris' first birthday here at home on Sunday. A few of our friends came over to celebrate with us. We enjoyed a little brunch, with donuts as our birthday "cake". :)
Harris & Nolin both enjoyed having playtime with their friends. Harris wasn't crazy about the donut though. He made the cutest little face when he tried it.
Harris wasn't sure what was going on when we sang Happy Birthday to him. He just stared at us all taking it in. :)
The decorations were simple. Just some balloons, a chalkboard, & a cute little "Harris William" banner.
The group picture attempt didn't go so well. :)
So the Momma's put on the fun party glasses for a picture!
Super Harris & the aftermath...
Happy Birthday Baby Brother...